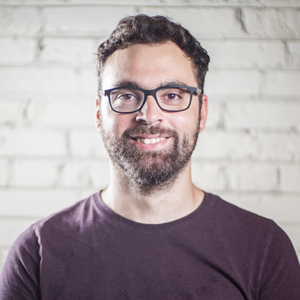 Marcello Giordano
Special guest
Marcello Giordano is a Research Scientist at Chatham Labs with a background in human computer interaction (HCI) and haptics. He received his PhD from McGill University in Canada, where his work was concerned with haptics in musical interaction and incorporating touch into digital music. Now, in both his research and his applied work at Chatham Labs, Marcello aims to bring touch to a wide variety of digital interactions. Previously, Marcello was a HCI Researcher at Huawei Technologies, investigating haptics for mobile devices, and a haptics engineer for Ultrahaptics Ltd., where he worked on both research and products utilizing Ultrahaptics's mid-air haptic technology.
Marcello Giordano has been a guest on 1 episode.
1 December 2019 | 53 mins 28 secs

design tools, ethics, music

Dr. Marcello Giordano is a research scientist at Chatham Labs. He has a background in HCI, music, and haptics, and previously worked at Huawei and Ultrahaptics (now Ultraleap). Discussion topics include haptic musical interfaces, metronomes and synchronization of performance groups, contrasts in experience working for small and large companies, mixed reality, ungrounded and mid-air haptics, robot and haptic ethics, and human enhancement.