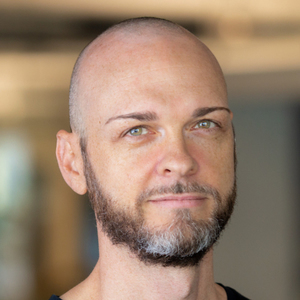 Dave Birnbaum
Host of INIT
Dave is a designer, inventor, and public speaker on the topics of emotional design, embodied communication, and immersive entertainment. Currently Distinguished Staff, Technology Strategy at Immersion Corporation, he's spent the last 15 years designing apps, games, phones, weareables, musical instruments, automotive interfaces, medical devices, ads, and XR with touch technology. Since encountering a haptic interface for the first time in 2005, Dave has believed embodied technologies are poised to change our society and our world. He wants to help make that happen.
Dave Birnbaum has hosted 18 Episodes.
6 November 2019 | 1 hr 5 mins

Dr. Carolina Brum is an HCI expert with a background in music, gesture acquisition and signal processing. As part of Google's ATAP team, she helped create the radar-based gesture input feature for the Pixel 4. Topics of discussion include sensor fusion, AI, digital privacy, and cultural conventions for interpersonal touch.

6 November 2019 | 11 mins 21 secs

INIT is a show about technology, humanity, and the inventors of our collective future. In this short introductory episode, Dave talks about the idea behind the show and what you can expect to hear in future episodes.